Monthly Archives:
March 2013
March 28, 2013

Posted by jcogswell1

under

Dinner
As I mentioned in my last post, we had quite the homemade Thai feast on Sunday night.  In addition to eating summer rolls, we also scarfed down some delicious Pad Thai.
I have actually tried to  make Pad Thai before.  One time, I used a high quality bottled sauce and another I just tried to wing it using ingredients that reminded me of the flavor of Pad Thai.  Both turned out okay, but they didn't make for recipes that I wanted to make over and over in lieu of Pad Thai my favorite takeout place.
In preparation for our "better than takeout" night for Sunday dinner, I decided that I wanted to go really authentic and create a dish that would make me forget about takeout.  This recipe definitely achieved that goal.  I studied a lot of Pad Thai recipes in cookbooks and online and found that the main component connecting them all was tamarind.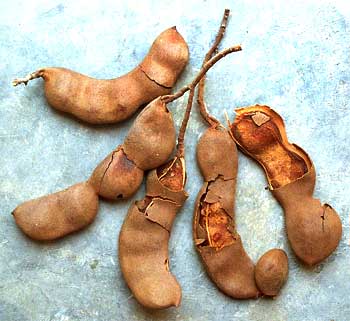 Tamarind comes from the tamarind tree (duh) which produces an edible, pod-like fruit that tastes both sour and slightly sweet when cooked.  If you can find it, use pre-made tamarind juice in this recipe, it cuts down on the prep time significantly.  Tamarind paste will also work.  Unfortunately, I was unable to find either at Whole Foods (an Asian grocery store would carry both though), so I had to purchase raw tamarinds and make my own juice.
The process of extracting the juice isn't actually difficult, it just takes longer than opening a jar would!  Whatever kind of tamarind you can find, go for it, just don't exclude it because it gives the Pad Thai sauce that tangy, slightly sour taste.  The other elements of the sauce – fish sauce and brown sugar – also contribute to the delicious taste of the sauce.
Just as a fair warning, although fish sauce is delicious in the end product, it is pretty stinky while it is being cooked.  I am not a fan of fish sauce on its own, but when its combined with the other ingredients and poured over the rice noodles, it becomes an integral and amazing flavor contributor.
I made my Pad Thai with both Chicken and Tofu which is the combo offered at my favorite Thai restaurant.  If you don't want to add the meat, use all tofu for a delicious vegetarian entrée.  In addition to the tofu and chicken, I included beaten eggs, peanuts, bean sprouts, scallions, lots of lime juice and ground allepo chili peppers (a medium hot chili that worked great in this dish – any ground chili of your choice would work great though).
Even though there are a lot of steps to this recipe, I really hope you end up making it. It is SO worth it.  Initially, I thought I made way too big of a portion for the four of us that were eating, but we managed to get through it because this Pad Thai is just that good!
Better than Takeout Pad Thai – Serves 4 (inspired by this recipe)
Ingredients:
Pad Thai Sauce (makes 1 cup of sauce, you will have leftovers):
1 cup plus 3 TB brown sugar
Pad Thai:
1 1/2 TB garlic, minced (about 4 gloves)

6-8 ounces chicken breast, sliced (I suggest about 1 1/2 breasts)

1 block extra firm tofu, baked and chopped into large pieces**

14 ounces (1 package) dried rice noodles (soaked in cold water for 60 minutes and drained)

2 cups bean sprouts (1 1/2 cups in pad thai, 1/2 cup for topping)

4 limes – 2 for juicing, 2 for garnish

1/3 cup Pad Thai Sauce (see above)

Juice of 2 limes
*If making tamarind juice by hand, purchase 1/2 lb of fresh tamarind.  Boil the tamarind in enough water so that they are covered, for 20-30 minutes or until the pods start to break.  Remove the tamarind with approximately 1/2 of the cooking liquid and mash it into a fine paste.  Drain the liquid you mashed the tamarind with, plus the cooking liquid through a fine mesh sieve.  Allow the tamarind pulp to sit in the sieve and juice for 10-15 minutes.  Drain once more through a sieve and you have tamarind juice!
** I like to get my tofu crispy prior to stir frying it. To do this, I cut the tofu block lengthwise into 4 slices.  Spray a cookie sheet with cooking spray, place the tofu down, spray it with a bit of cooking spray, sprinkle with salt and pepper.  Cook in a 350 degree oven for 30 minutes until slightly browned and crisp.
Directions:
Sauce:
Add all ingredients to a medium sauce pan.  Bring liquid to a boil and reduce to heat to low.  Cook everything together for about 60 minutes until the sauce becomes thick and syrupy.  You want to make sure you are stirring occasionally to prevent the sauce from burning.  Note – the sauce will yield about 1 cup and the recipe only requires 1/3 cup.  Freeze the remaining sauce and use for the next batch of Pad Thai.
Given that the sauce takes and hour and the noodles soaking take an hour, this is a good time to start the noodles as well.
Pad Thai:
Before I get started discussing the directions, I just want to say that this recipe comes together very quickly. That is, once you throw one thing in the wok, the whole process moves fast.  With that said, you want to make sure you have everything prepped (chopped, sliced, etc.), so that you can just reach to your cutting board and throw everything in.
Heat a large wok over medium high heat.  Add oil and garlic.  Cook until garlic is translucent, but not browned.  Add the sliced chicken and cook for 3-4 minutes until the chicken is cooked through.  Remove the chicken from the wok and set aside.  If the chicken has absorbed a lot of oil (it shouldn't!), add a bit more oil. 
Add the noodles to the wok, stirring constantly so that they don't stick to each other.  Add a bit of water (approximately 1/3 cup) to help the noodles not stick.  After 1-2 minutes of stir frying the noodles on their own, add the pad thai sauce (1/3 cup) and lime juice and stir everything to combine.  Cook for approximately 3 minutes, or until the noodles appear soft and clear.
Push the noodles to the side of the wok and add the beaten eggs to the pan.  Cover the eggs with the noodles and allow everything to cook (no stirring) for 1 minute or until the eggs look set.  Once set, mix the eggs with the noodles so that the scrambled eggs are evenly distributed.
Add the chilies, peanuts, 1 1/2 cups of the bean sprouts, scallions, tofu and chicken to the noodles and stir everything to combine.  Taste for seasoning – pad thai sauce, lime – and adjust as necessary.
Serve immediately with a garnish of bean sprouts and lime wedges.
Next Page »